Partnering with you to help restore your body's balance.
NW Vibrational Sound Therapy is a place that offers a nurturing space, where healing takes place, pains are removed, and anxieties are diminished.
About Vibrational Sound Therapy (VST)
These are the most frequently asked questions about Vibrational Sound Therapy. Click on any of them to read more. Don't see your question answered here? Please reach out! We'd be happy to answer any questions you may have and look forward to assisting you!
What is Vibrational Sound Therapy (VST)?
Vibrational Sound Therapy combines powerful vibration and sound to induce an immediate relaxed state. By placing therapeutic singing bowls directly on the body, the sound and vibration can be used to re-tune us to health. When there is a deep relaxation through soothing, resonant sound, the body is affected on a cellular level, opening up the flow of energy to move us back towards alignment with health and well being. Sound and vibration can help us shift our energy frequency from lower to higher. It can help realign the frequencies of the body, bringing us back to a state of balance.
Who is a good candidate for VST?
People looking for deep relaxation
People seeking relief from stress, depression or anxiety
People looking to decrease chronic pain
People going through a life transition
People struggling with digestive issues
People feeling stuck in their spiritual journey
People looking to balance their energetic body
VST is for anyone who . . . .
wants to achieve deeper relaxation to improve their stress levels
is working on healing themselves on a physical, emotional, or spiritual level
wants to strengthen their mediation and self-care practices to achieve more clarity, creativity and centeredness
What happens in a VST session?
A Vibrational Sound Therapy (VST) session can be a very special and memorable experience. Using sound and vibration, VST activates the parasympathetic nervous system to reduce stress in the body. VST is gentle. It can have profound effects on the body and the mind, with clients quickly reaching a deep state of relaxation. Some clients experience such deep relaxation that they may fall asleep at some point during the session.
Our services are provided in a beautiful wooden yurt located on a private, serene setting near Hagg Lake. The client remains fully clothed providing a non-invasive treatment atmosphere. Therapeutic Himalayan singing bowls are placed around and directly on the body. The bowls are struck with a mallet to produce a vibration and resonant sound that will travel through the cells of your body.
What are the benefits of VST?
Modifies breathing rate and depth, heart rate, and blood pressure
Enhances immunity
Relieves or lessens depression and anxiety
Relieves stress and allows your body to engage its natural healing process
Corrects imbalances in the energetic body
Balances your nervous system
Enhances dream work or meditation
Help with insomnia, addiction, lack of focus
About Our Space
Our services are provided in a beautiful wooden yurt located on a private, serene setting near Hagg Lake. View more photos and find out more on the About Our Space page or contact us directly for more information.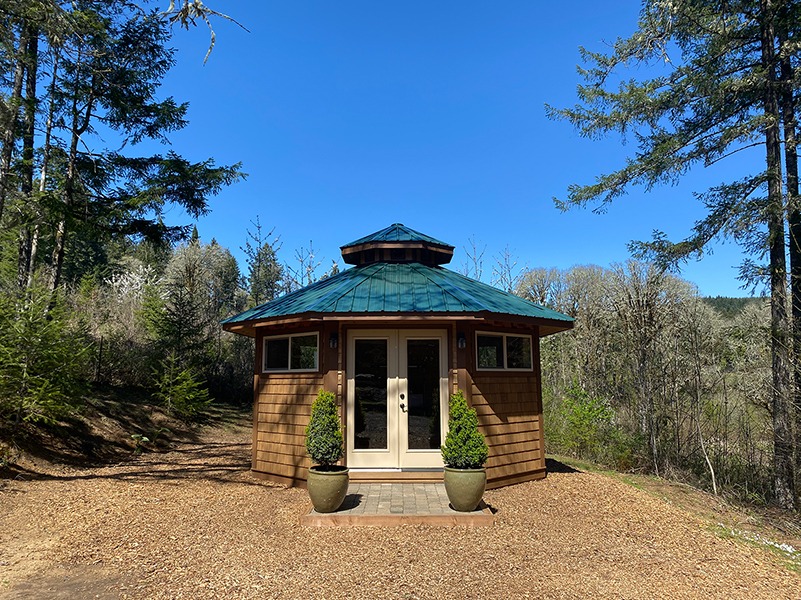 Enhancing the Experience!
In addition to the wonderful experience you get when you book one of our sound therapy services, get ready for
some treats as well! Fabulous chocolate and coffee! We purchase them from these fine companies:
I felt as though I had slept a full nights sleep.
My mind and body were relaxed and soothed.
I feel incredibly relaxed and fully charged.
It is a great tool to help me fully relax.
Sound therapy helped me clear emotional baggage.
I feel centered and my vision seems clearer.
I fall asleep without taking a sleep aid.
It felt like a car wash for my insides.